Image 38 of 42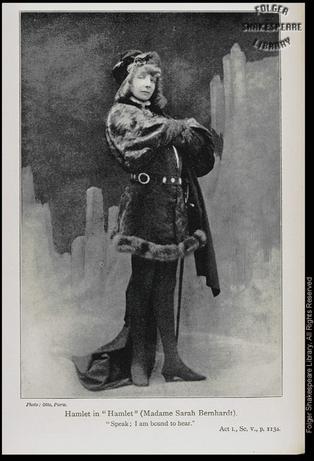 (Click on image to get enlarged view.)

Description: Portrait of Sarah Bernhardt as Hamlet. Full length, standing, slightly to right, facing forward. Her arms are folded in front of her. She wears short fur-trimmed tunic, bonnet, and long cloak draped over her left arm. She has a sword at her left hip. Behind is backdrop of castle battlements. Below is quotation, perhaps added to the photograph by the editor: 'Speak; I am bound to hear.'

Folger Act/Sc/L: 1.5.11
Arden Act/Sc/L: 1.5.6
TLN: 691.00

Artist:
Artist (Original work): Otto (Paris)
Date: 1899 ?
Date (Original work):
Medium: Photo-engraving
Size: 15 x 10.2 cms; 5 7/8 x 4 in
Actor: Bernhardt, Sarah
Production:

Location:FSL. PR2754 lyt Sh. Coll. THE COMPLETE WORKS OF WILLIAM SHAKESPEARE WITH A BIOGRAPHICAL INTRODUCTION BY HENRY GLASSFORD BELL. ILLUSTRATED WITH SIXTY-FIVE PHOTO-ENGRAVINGS OF EMINENT HISTRIONIC ARTISTS (London & Glasgow: Collins, [1899]), opp. p. 1129.