Image 29 of 42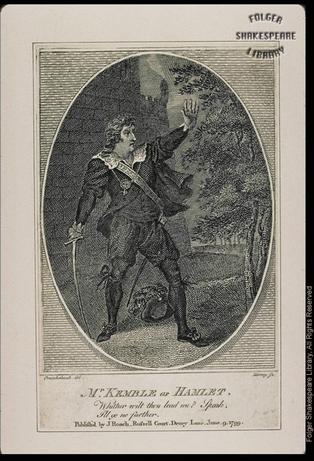 (Click on image to get enlarged view.)

Description: John Philip Kemble as Hamlet, standing, forward, facing right. In position of 'start'. Feet wide apart, weight on rear leg (his right, at left of picture), Left arm fully extended to right, palm vertical, sword in right hand, point to ground behind him at left. Between his legs on the ground is his plumed bonnet. He wears jacket and breeches, a broad embroidered collar, and a chivalric order on a chain around his neck. Quotation at foot: 'Whither wilt thou lead me? Speak, / I'll go no farther.'

Folger Act/Sc/L: 1.5.2
Arden Act/Sc/L: 1.5.1
TLN: 682.00

Artist: Murray, George
Artist (Original work): Cruikshank
Date: 1799 (9 June)
Date (Original work):
Medium: Engraving (signed 'Marray' [sic] and dated)
Size: 10.5 x 7.5 cms; 4 1/8 x 3 in (oval within rectangle)
Actor: Kemble, John Philip
Production:

Location: FSL. Art Vol. a40, Vol. 35. From extra-illus. THE WORKS OF WILLIAM SHAKESPEARE, ed. Henry Irving & Frank A. Marshall (New York: n.p., 1893), after p. 38. Published by J. Roach (London, 9 June 1799).