Image 5 of 42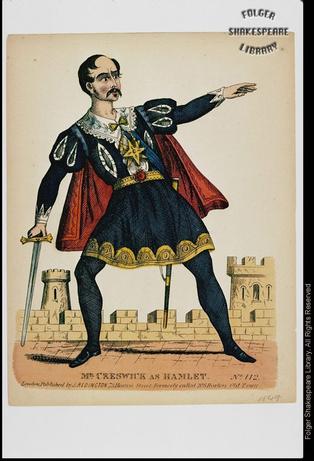 (Click on image to get enlarged view.)

Description: Portrait of William Creswick (1813-88) as Hamlet at Surrey Theatre, London, in 1849, forward, facing right. The pose is the same as that used in matching pictures of Edmund Kean in illustration of 1814 and by John Howard Payne. Creswick stands on the battlements (not shown in the illustrations of Kean and Payne). His legs are placed apart and he leans slightly back (the classic position of the 'start'). In his right hand he holds his sword which points to the ground behind him. His left arm is extended horizontally to the right of the picture where presumably the Ghost beckons him. He wears a short gold-trimmed tunic and short red cloak. There is a large four-pointed star at his breast.

Folger Act/Sc/L: 1.5.2
Arden Act/Sc/L: 1.5.1
TLN: 682.00

Artist: Anonymous
Artist (Original work): Anonymous
Date: 1849
Date (Original work):
Medium: Engraving (twopence coloured) (unsigned and undated)
Size: 42.5 x 15.5 cms; 7 3/4 x 6 1/8 in
Actor: Creswick, William
Production: Surrey Theatre (London), 1849

Location: FSL. Art File C923 no. 2. Published by John Redington and numbered 112.