Image 31 of 42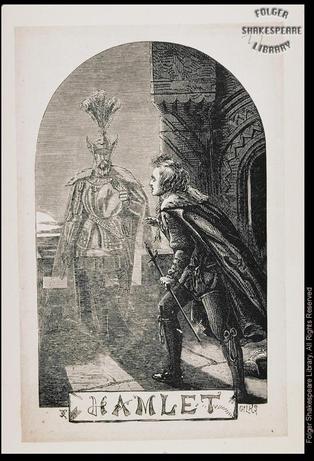 (Click on image to get enlarged view.)

Description: Hamlet in right foreground, leaning forward to rear centre, legs wide apart. He holds his sword by the blade in his left hand at his side. At rear left, facing forward, stands the Ghost, in armour, with plumed helmet, the visor up. He holds a truncheon in his right hand. Low on the horizon at left rear is full moon. To right rear is doorway into the castle. At bottom centre is title: 'HAMLET'.

Folger Act/Sc/L: 1.5.2
Arden Act/Sc/L: 1.5.1
TLN: 682.00

Artist: Gilks, [Thomas ?]
Artist (Original work): Anonymous (undecipherable)
Date:
Date (Original work):
Medium: Engraving (wood) (signed but undated)
Size: 14 x 8.4 cms; 5 3/8 x 3 1/4 in
Actor:
Production:

Location: FSL. Shakespeare Scrapbook (Flat), 18th-42th centuries. Vol. 10, Hamlet, fol. 81 (a).