Image 23 of 30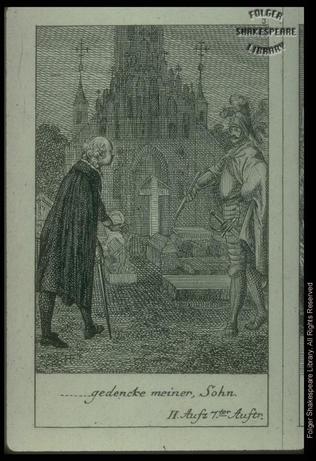 (Click on image to get enlarged view.)

Description: Hamlet (Johann Brockmann) at left in graveyard in front of church. He holds his sword in his left hand and leans slightly forward towards the Ghost who stands at right. The Ghost in armour with the visor up holds a truncheon in his right hand which is held up in the direction of Hamlet. The engraving is accompanied by the text '... gedencke meiner, Sohn.'

Folger Act/Sc/L: 1.5.98
Arden Act/Sc/L: 1.5.91
TLN: 776.00

Artist:
Artist (Original work): Chodowiecki, Daniel Nicolaus
Date: 1779
Date (Original work):
Medium: Engraving
Size: 7 x 4.9 cms; 2 3/4 x 1 15/16 in (8.2 x 4.9 cms with caption)
Actor: Brockmann, Johann
Production: Berlin, 1777-1778.

Location: FSL. Art File S528h1 no. 154a, pt. 3 (one of twelve on sheet); FSL. Shakespeare Scrapbook (Flat), 18th-19th centuries. Vol. 10, Hamlet, fol. 95 (c) and (d).