Image 22 of 30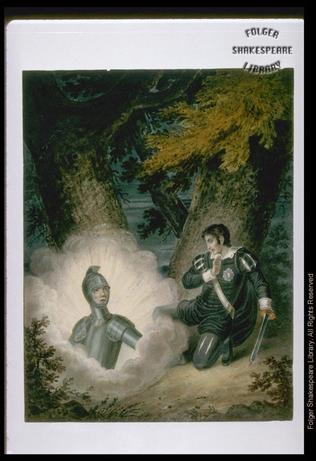 (Click on image to get enlarged view.)

Description: Hamlet and Ghost. This would appear to be the moment at which the Ghost leaves Hamlet. The scene is a wooded one. In the left foreground, the Ghost appears to have half disappeared into the ground amidst a brightly-lit circle of vapour. He wears armour and his visor is up. Though his body is turned to the left, he looks back over his left shoulder towards Hamlet who is upon one knee at the base of the trunk of a tree at right. Hamlet appears to be starting back in fright, and his right arm is crossed across his body, his right palm open and held up. In his left hand he holds his sword which is pointing at the ground. He wears doublet and breeches and has an insignia on the left side of his chest. This does not appear to represent a stage, although the Ghost's exit downwards may represent a stage practice.

Folger Act/Sc/L: 1.5.98
Arden Act/Sc/L: 1.5.91
TLN: 776.00

Artist: Coghlan, J.
Artist (Original work): Coghlan, J.
Date: n.d.
Date (Original work):
Medium: Watercolour (unsigned)
Size: 25.4 x 19.4 cms; 10 x 7 5/8 in (no border)
Actor:
Production:

Location: FSL. Art Box C678 no. 3.