Image 20 of 30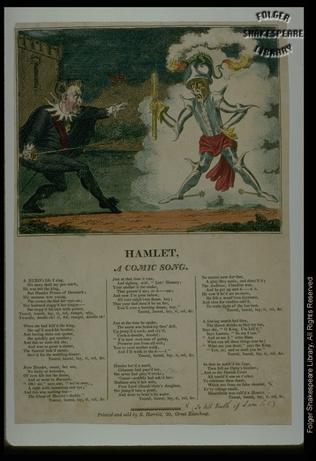 (Click on image to get enlarged view.)

Description: A caricature of the scene in which Hamlet confronts the Ghost. It is the moment when the cock crows and the Ghost is recalled. Hamlet at left with drawn sword pointing at Ghost, gestures with his left arm which also points at the Ghost. His mouth is wide open as if he is shouting or perhaps in sheer astonishment. The Ghost at right appears to have emerged from a cloud. His bizarre armour and spurs make him comical and he has a dragon as a crest on his helmet that seems to be belching fire from mouth and tail. He holds a truncheon in his right hand that he holds up in front of Hamlet. In the background is the castle at the left and a red rooster in the centre. Below this picture is a comic song, telling the story of how Hamlet's mother killed her husband, 'ogl'd his brother' and got him for a husband. The Ghost tells Hamlet the truth but is interrupted by the cock that sends him back to 'sulph'rous flame'.

Folger Act/Sc/L: 1.5.97
Arden Act/Sc/L: 1.5.90
TLN: 775.00

Artist: Anonymous
Artist (Original work): Anonymous
Date: n.d.
Date (Original work):
Medium: Engraving coloured
Size:
Actor:
Production:

Location: FSL. Art File S528h1 no. 100. Printed and sold by R. Harrild, 20, Great Eastcheap.