Image 19 of 30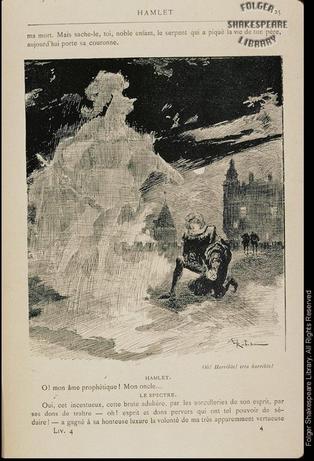 (Click on image to get enlarged view.)

Description: Near transparent figure of Ghost at left upon platform. Just to right of centre, Hamlet kneels, his hands clasped in front of him, mouth wide open in horror. At right rear in distance are two figures (Horatio and Marcellus) and behind them the palace of Elsinore.

Folger Act/Sc/L: 1.5.87
Arden Act/Sc/L: 1.5.80
TLN: 765.00

Artist: Robida, A.
Artist (Original work): Robida, A.
Date: 1900
Date (Original work): 1900
Medium: Engraving (wood) (signed 'A. Robida')
Size: 17 x 14.5 cms; 6 3/4 x 5 3/4 in
Actor:
Production:

Location: FSL. PR2796 F6 1900 Sh. Coll. CHEFS-D'OEUVRE DE SHAKESPEARE, trans. Jules Lermina, illus. A. Robida (Paris: Edouard Cornely, 1900), p. 25.