Image 9 of 30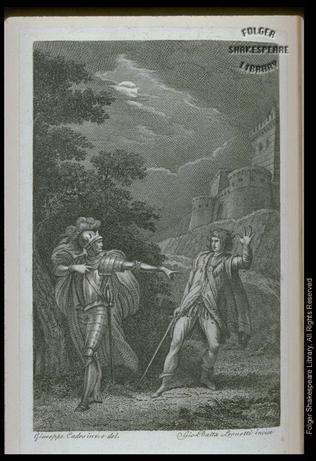 (Click on image to get enlarged view.)

Description: To left stands Ghost as though walking in that direction. However, his head is turned back over his left shoulder towards where Hamlet stands at right of picture. The Ghost is wearing armour and a plumed helmet with the visor up. He has a sword but no truncheon. With his right arm fully extended behind him towards Hamlet, he seems to be pointing (almost accusingly) at his son. Hamlet to right stands with feet apart, his weight back on his left leg. Hence he is leaning back away from the Ghost towards the right. His left arm is raised and his palm is open towards the Ghost as if in fright. His sword is drawn and is in his right hand. The tip of the sword is touching the ground. Hamlet wears a short cloak. There are dense trees behind the Ghost, and in the background behind Hamlet are the walls of the castle. The scene is backlit by a partially obscured full moon.

Folger Act/Sc/L: 1.5
Arden Act/Sc/L: 1.5
TLN: 0.00

Artist: Leonetti, Giovanni Batta
Artist (Original work): Cades, Guiseppe
Date: 1798 ?
Date (Original work):
Medium: Engraving (signed but undated)
Size: 14.7 x 9.5 cms; 5 3/4 x 3 3/4 in (17 x 11.5 cms full plate)
Actor:
Production:

Location:FSL. Art Vol. a34 (Vol. 17, opp.p. 489); From 21 volume extra-illustrated edition of SHAKESPEARE'S WORKS (London: Moxon, 1857), ed. Dyce.