Image 10 of 30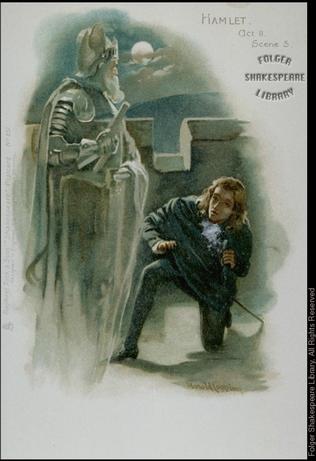 (Click on image to get enlarged view.)

Description: Hamlet and the Ghost. Ghost at left, right side on to viewer, truncheon in right hand. He wears armour and winged helmet (visor up) and has silver beard. Hamlet kneels at right on one knee, looking up at the Ghost. Behind are the battlements and a partially-obscured full moon.

Folger Act/Sc/L: 1.5
Arden Act/Sc/L: 1.5
TLN: 0.00

Artist: Copping, Harold
Artist (Original work): Copping, Harold
Date: 1897 (?)
Date (Original work):
Medium: Chromograph postcard (coloured) of design by Copping (signed).
Size: 11 x 8 cms; 4 1/4 x 3 1/8 in
Actor:
Production:

Location:FSL. Art Vol. a43 vol. 2. From extra illustrated copy of THE NEW VARIORUM EDITION OF SHAKESPEARE: HAMLET (Philadelphia: Lippincott, 1877), opp. p. 346.