Image 13 of 30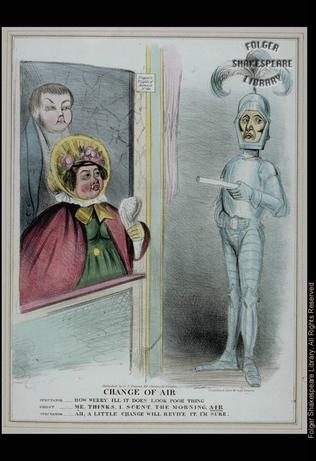 (Click on image to get enlarged view.)

Description: At right on stage stands Ghost in full plate armour with helmet and white plumes. At left in theatre box are man and woman. Below is caption. The Spectator says, 'How werry ill it does look poor thing.' The Ghost then says, 'Me thinks I scent the morning air.' To this, the Spectator replies,'Ah, a little change will revive it, I'm sure.'

Folger Act/Sc/L: 1.5.65
Arden Act/Sc/L: 1.5.58
TLN: 743.00

Artist: Anonymous
Artist (Original work): Anonymous
Date:
Date (Original work):
Medium: Lithograph (coloured)
Size: 26.5 x 21.5 cms; 10 1/4 x 8 1/2 in
Actor:
Production:

Location: FSL. Art Vol. b63 unnumbered. Print published by G.S. Tregear (London) and printed by W. Clerk (London). From extra-illustrated copy of THE PICTORIAL EDITION OF SHAKSPERE (London: Charles Knight, 1839), Pt. X (HAMLET).