Image 12 of 30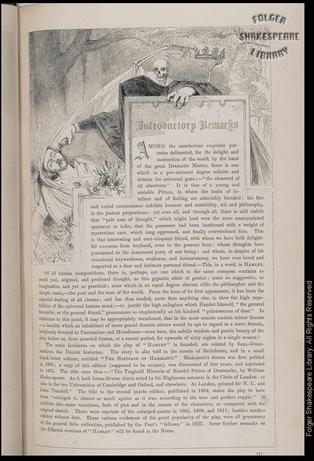 (Click on image to get enlarged view.)

Description: At left, the sleeping King Hamlet. A hooded figure bends over him and pours the poison in his ear. At the rear a skeleton (Death) holds up a crown. This is the headpiece to the 'Introductory Remarks' (Vol. 2, 141).

Folger Act/Sc/L: 1.5.60
Arden Act/Sc/L: 1.5.53
TLN: 739.00

Artist: Smith, Orrin (?)
Artist (Original work): Meadows, Kenny
Date: 1843
Date (Original work):
Medium: Engraving (wood) (unsigned)
Size: 12.3 x 13.2 cms; 4 7/8 x 5 1/4 in (irregular)
Actor:
Production:

Location: FSL. PR2752 1843al Sh. Coll. THE WORKS OF SHAKSPERE, introd. Barry Cornwall (London: Robert Tyas, 1843), Vol. 2, 141.