Image 18 of 30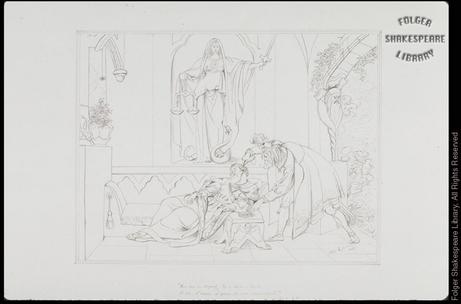 (Click on image to get enlarged view.)

Description: 'Thus was I, sleeping, ...' Shows murder of King Hamlet, but before play begins, and has title 'Introduction'. At centre upon a bench lies the sleeping King Hamlet. It is an interior scene although outside the open door to right is foliage suggestive of the orchard. The murderer at right bends over the king and pours poison into his ear with his right hand. With his left hand he reaches towards the crown which the sleeping king has removed and laid down beside him. Above the sleeping king in an alcove is a large statue of the female figure of Justice with pair of scales in her right hand and unsheathed raised sword in her left hand. There is a sun (for Truth?) on her breast plate. Her left foot is placed upon a serpent.

Folger Act/Sc/L: 1.5.81
Arden Act/Sc/L: 1.5.74
TLN: 759.00

Artist: Anderson, William M.
Artist (Original work): Retzsch, Frederick August Moritz
Date: 1848
Date (Original work): 1827
Medium: Pencil drawing (signed and dated 'W.M. Anderson 1848')
Size: 17 x 22.5 cms; 6 3/4 x 8 7/8 in
Actor:
Production:

Location: FSL. Art Box A552 no. 4.