Image 6 of 30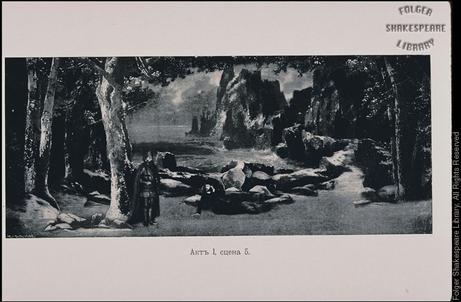 (Click on image to get enlarged view.)

Description: An elaborate wooded setting beside the sea-shore. Trees to right and left, rocks at centre, and behind them a turbulent sea with rocky cliffs beyond. At centre Hamlet is stretched out upon the ground, his face to the left, staring up at the Ghost at left. Hamlet supports his body with his right hand on the ground. His left hand is held to his head. The Ghost stands at left, slightly to right looking to right but not at Hamlet. He wears armour, a helmet with the visor up and a long cloak. His left arm is at his side and in his right hand he holds what is probably intended as a sceptre, though it has the shape of a sword.

Folger Act/Sc/L: 1.5
Arden Act/Sc/L: 1.5
TLN: 0.00

Artist: Schuler, A
Artist (Original work): Schuler, A
Date: 1900
Date (Original work):
Medium: Photograph (signed 'A. Schuler'
Size:
Actor:
Production: St. Petersburg (Russia), Imperial Hermitage Theatre, 17 Feb 1900.

Location: FSL. Art Vol. f27, fol. 32.