Image 5 of 30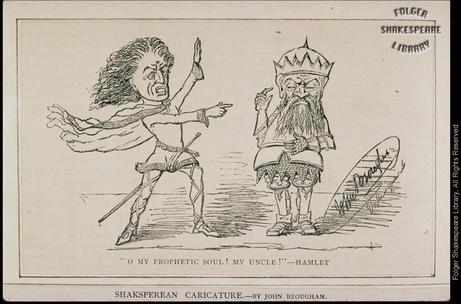 (Click on image to get enlarged view.)

Description: Hamlet at left, feet wide apart, points with right hand to elderly bearded king (ghost of his father?) at right. Hamlet wears a short tunic and cross garters in the manner of Booth. The Ghost/King at right wears armour and appears to be beckoning Hamlet with his right hand. Caption reads: 'O MY PROPHETIC SOUL! MY UNCLE!'

Folger Act/Sc/L: 1.5.47
Arden Act/Sc/L: 1.5.40
TLN: 727.00

Artist: Brougham, John (?)
Artist (Original work): Brougham, John (?)
Date:
Date (Original work):
Medium: Engraving (signed)
Size: 7.5 x 13 cms; 3 x 4 1/2 in
Actor: Booth, Edwin (?)
Production:

Location: FSL. Art Vol. a40, Vol. 35. From extra-illus. THE WORKS OF WILLIAM SHAKESPEARE, ed. Henry Irving & Frank A. Marshall (New York: n.p., 1893), before p. 39.