Image 3 of 3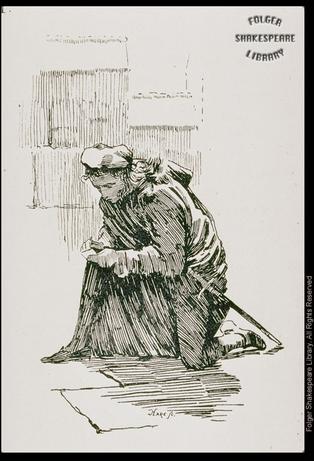 (Click on image to get enlarged view.)

Description: Hamlet, to left, kneeling on left knee. He holds his tables and is writing in them. He wears cloak, sword, and soft hat.

Folger Act/Sc/L: 1.5.114
Arden Act/Sc/L: 1.5.107
TLN: 792.00

Artist: Hare
Artist (Original work): Copping, Harold
Date: 1897 (?)
Date (Original work):
Medium: Engraving (wood) (signed 'Hare Sc')
Size: 9.2 x 5.6 cms; 4 5/8 x 2 1/4 in
Actor:
Production:

Location: FSL. PR2807 A361 Sh. Coll.; BL 11764.m.9. HAMLET, PRINCE OF DENMARK ... ILLUSTRATED BY HAROLD COPPING. London: Raphael Tuck, [1897], p. 19.