Image 11 of 19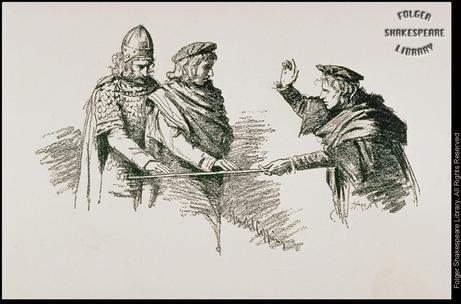 (Click on image to get enlarged view.)

Description: Marcellus, at left, in armour and helmet, facing slightly right, places hand on Hamlet's sword. Horatio at centre does the same. At right Hamlet extends his sword towards his two friends and raises his right hand, palm forward, as if making an oath.

Folger Act/Sc/L: 1.5.203
Arden Act/Sc/L: 1.5.189
TLN: 878.00

Artist: Hare
Artist (Original work): Copping, Harold
Date: 1897 (?)
Date (Original work):
Medium: Engraving (wood) (signed 'Harold Copping' and 'Hare Sc')
Size: 9.5 x 13.8 cms;3 1/4 x 5 3/8 in
Actor:
Production:

Location: FSL. PR2807 A361 Sh. Coll.; BL 11764.m.9 HAMLET, PRINCE OF DENMARK ... ILLUSTRATED BY HAROLD COPPING. London: Raphael Tuck, [1897], p. 21.