Image 10 of 19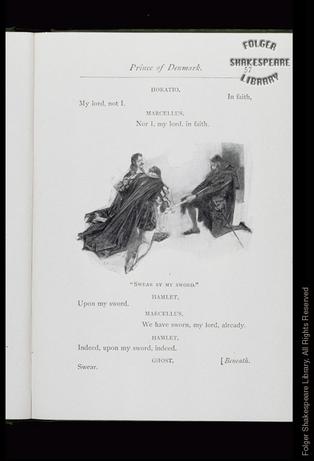 (Click on image to get enlarged view.)

Description: Hamlet at right, kneeling on one knee, extends his sword, hilt first as though it were a cross, to Horatio and Marcellus at left. These two are kneeling in order to put their hands on the sword to swear. Caption below reads: 'Swear by my sword.'

Folger Act/Sc/L: 1.5.180
Arden Act/Sc/L: 1.5.167
TLN: 857.00

Artist: Christy, Howard Chandler
Artist (Original work): Christy, Howard Chandler
Date: 1897
Date (Original work):
Medium: Photographic reproduction (signed)
Size: 7 x 9 cms; 2 7/8 x 3 1/2 in (full page is 20 x 13.5 cms)
Actor:
Production:

Location: FSL. PR2807 A412 Sh. Coll. THE TRAGEDY OF HAMLET PRINCE OF DENMARK (New York: Barse & Hopkins, 1897), p. 57.