Image 5 of 14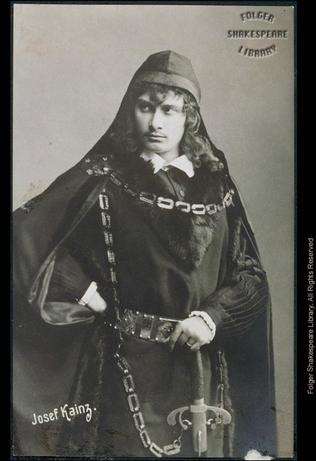 (Click on image to get enlarged view.)

Description: Portrait of Josef Kainz as Hamlet. Three-quarter length, standing, forward, eyes slightly to left. His right hand is upon his right hip, his left hand resting upon the hilt of his sword. He wears long cape with hood which is up.

Folger Act/Sc/L: n/a
Arden Act/Sc/L: n/a
TLN: n/a

Artist: Anonymous
Artist (Original work): Anonymous
Date:
Date (Original work):
Medium: Photograph
Size: 13.7 x 8.5 cms; 5 1/2 x 3 3/8 in
Actor: Kainz, Josef
Production:

Location: FSL. Art Vol. a43 vol. 2. From extra illustrated copy of THE NEW VARIORUM EDITION OF SHAKESPEARE: HAMLET (Philadelphia: Lippincott, 1877), opp. p. 82.