Image 3 of 15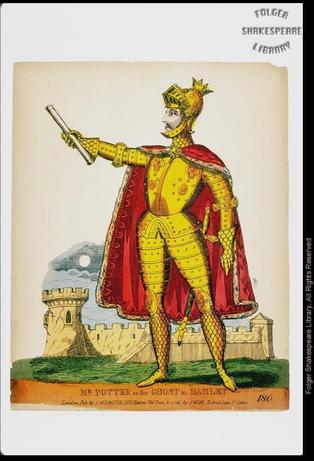 (Click on image to get enlarged view.)

Description: Mr. Potter as the Ghost. Full length, standing, forward, facing left in profile. Feet Apart, right arm extended horizontally to left. In his right hand he holds a truncheon. He wears plate armour and helmet (visor raised), sword, and short three-quarter length cloak, lined in red and trimmed in ermine. The castle walls low on horizon at rear. Full moon low on horizon at left.

Folger Act/Sc/L: n/a
Arden Act/Sc/L: n/a
TLN: n/a

Artist: Anonymous
Artist (Original work): Anonymous
Date:
Date (Original work):
Medium: Engraving (two-penny coloured)
Size: 20.5 x 17 cms; 8 1/8 x 6 7/8 in (includes caption)
Actor: Potter, Mr. (Ghost)
Production:

Location: FSL. Art File P866 no. 1. Published by J. Redington.