Image 3 of 6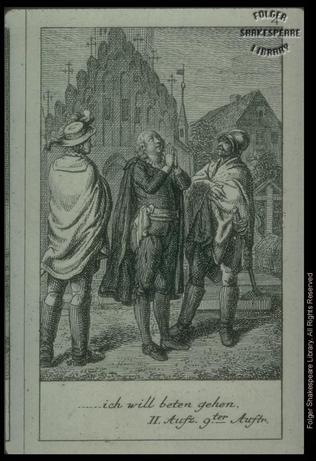 (Click on image to get enlarged view.)

Description: Hamlet before same church as pt. 3. To his left stands Horatio and to the right Marcellus. Hamlet (Johann Brockmann) has his hands together as if in prayer. They are raised as high as his face and his eyes are turned to Heaven. The German text below is '... ich will beten gehen.'

Folger Act/Sc/L: 1.4
Arden Act/Sc/L: 1.4
TLN: 0.00

Artist:
Artist (Original work): Chodowiecki, Daniel Nicolaus
Date: 1779
Date (Original work):
Medium: Engraving
Size: 7 x 4.9 cms; 2 3/4 x 1 15/16 in (8.2 x 4.9 cms with caption)
Actor: Brockmann, Johann
Production: Berlin, 1777-1778.

Location: FSL. Art File S528h1 no. 154a, pt. 4 (one of twelve on sheet); FSL. Shakespeare Scrapbook (Flat), 18th-19th centuries. Vol. 10, Hamlet, fol. 101 (a) and (b).