Image 4 of 6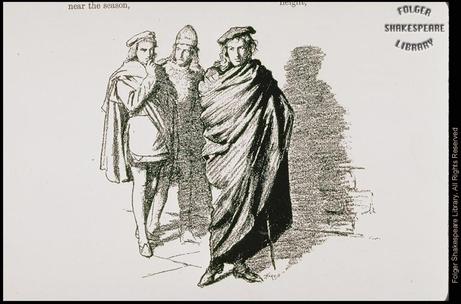 (Click on image to get enlarged view.)

Description: At left rear stand Horatio and Marcellus. Horatio wears a tunic, short cloak and soft hat, and he holds his right hand to his chin while looking at Hamlet at right. Hamlet at right is wrapped in a long dark cloak so that neither arm can be seen. He has his back to Horatio and Marcellus. His shadow is thrown upon the wall to the right behind him.

Folger Act/Sc/L: 1.4
Arden Act/Sc/L: 1.4
TLN: 0.00

Artist: Hare
Artist (Original work): Copping, Harold
Date: 1897 (?)
Date (Original work):
Medium: Engraving (wood) (signed 'Hare Sc.')
Size: 10.5 x 11 cms; 4 1/8 x 4 1/4 in
Actor:
Production:

Location: FSL. PR2807 A361 Sh. Coll.; BL 11764.m.9 (HAMLET, PRINCE OF DENMARK ... ILLUSTRATED BY HAROLD COPPING. London: Raphael Tuck, [1897], p. 17).