Image 2 of 6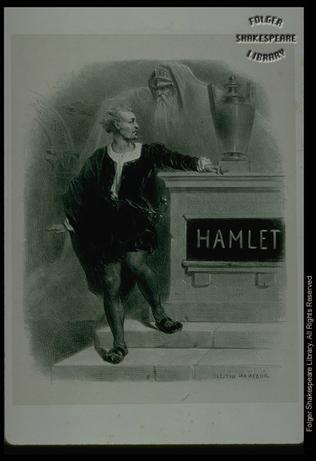 (Click on image to get enlarged view.)

Description: Hamlet stands to left of centre upon some steps leading up to what appears to be the tomb of King Hamlet. On the side of the tomb is the name 'HAMLET'. Hamlet's body is turned forward to the viewer and his left arm is extended and rests on the side of the tomb. His right hand is at his side but is half raised as if he has been suddenly frightened. The reason for his fright, which also shows on his face, which is turned across his left shoulder to look towards the back of the tomb, is that looming up behind and above the tomb is the huge phantom-like figure of the Ghost, an old bearded man wearing a helmet with its visor up. The helmet and his entire body are covered by a hooded cloak. With his right arm extended, the Ghost points towards an arched doorway at the extreme left. Although one might choose to associate the scene with Act 1 scene 4, the piece could be a totally imaginary composition. It might even be intended as a title-page for the play. Certainly the idea of King Hamlet's tomb cannot derive from the text of the play.

Folger Act/Sc/L: 1.4
Arden Act/Sc/L: 1.4
TLN: 0.00

Artist: Nanteuil, Celestin Leboeuf
Artist (Original work): Nanteuil, Celestin Leboeuf
Date: n.d.
Date (Original work):
Medium: Lithograph (signed)
Size: 25.4 x 19.7 cms; 10 x 7 3/4 in
Actor:
Production:

Location: FSL. Art File S528h1 no. 122.