Image 6 of 33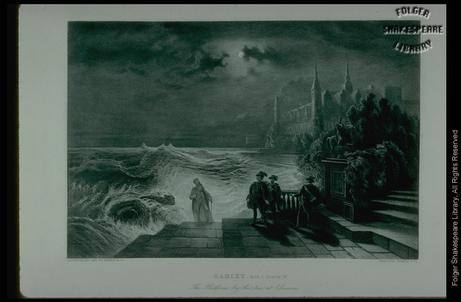 (Click on image to get enlarged view.)

Description: The platform by the sea at Elsinore. Filling the centre of the picture is a very rough sea, illuminated by a partially-obscured full moon. The actual figures are quite small in scale against the turbulent seascape. The Ghost in armour, with visor up, truncheon in right hand and leaning slightly on a cane held in the left hand, stands at the very edge of the platform, his back to the sea. Just to right of centre stands Hamlet, feet firmly apart and very upright. He seems almost defiant as he stares across his right shoulder down at the Ghost. He wears a black doublet, breeches and hose, a short cape and a plumed hat. Close behind him to the right a second figure (possibly Horatio) holds up his hand in a gesture of horror. Further to the right, equally well dressed, another figure recoils slightly, his back to the viewer. His left arm is raised in a gesture of fright. In the far background on the right is the castle, with gabled windows and towers, Dutch or Flemish in character.

Folger Act/Sc/L: 1.4.43
Arden Act/Sc/L: 1.4.39
TLN: 624.00

Artist: Gebbie
Artist (Original work): Anonymous
Date: 1887
Date (Original work):
Medium: Photogravure of painting (signed)
Size: 18.1 x 26.5 cms; 7 1/8 x 10 3/8 in (24.5 x 31 cms full pl)
Actor:
Production:

Location: Art File S528h1 no. 105; FSL. Art Vol. a40, Vol. 35. From extra-illus. THE WORKS OF WILLIAM SHAKESPEARE, ed. Henry Irving & Frank A. Marshall (New York: n.p., 1893), before p. 37.