Image 7 of 33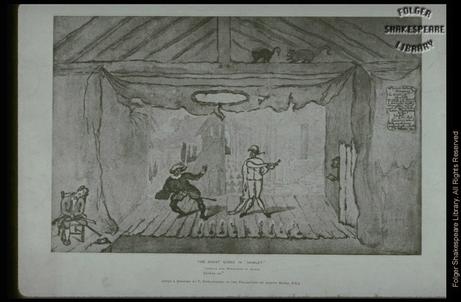 (Click on image to get enlarged view.)

Description: 'Angels and ministers of grace defend us!' (14039) is the text given below, but the moment portrayed shows the Ghost beckoning to Hamlet to follow him (14084). The picture is a caricature of a performance. It shows a small stage, to the left of which a musician with a violin is fast asleep as if bored by the performance. Above two cats play on the top of the proscenium arch. From a door at the right the prompter's head protrudes. He is holding the play book. At the front of the stage are a row of rather miserable candles, some of them already extinguished, some bent. On the stage at the right stands the Ghost beckoning Hamlet to follow him with his truncheon. Hamlet on the left, his hair standing on end, his left hand raised as if in fear and astonishment, recoils. He holds his drawn sword in his right hand, the point lowered. Hanging on the wall of the theatre is a humourous notice announcing the play, which will be in two acts, and will include a hornpipe danced by all the players.

Folger Act/Sc/L: 1.4.43
Arden Act/Sc/L: 1.4.39
TLN: 624.00

Artist: Rowlandson, Thomas
Artist (Original work): Rowlandson, Thomas
Date: n.d.
Date (Original work):
Medium: Reproduction of drawing by Rowlandson
Size: 15.2 x 23.5 cms; 6 x 9 1/4 in (21.5 x 29 cms - full page)
Actor:
Production:

Location: FSL. Art File S528h1 no. 7. Original drawing said to be in collection of Joseph Mayer.