Image 8 of 33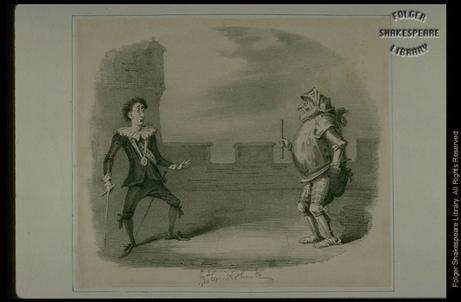 (Click on image to get enlarged view.)

Description: The battlements. A caricature of Hamlet's 'start'. Hamlet at left in black tunic and long knee-length black breeches with his sword drawn. He has a very large nose and looks in terror at the Ghost, his hair standing up. He wears a miniature or chivalric order around his neck. The Ghost at right is very portly and has a long pointed nose. He is bent at the knees, an effect that destroys all chance of dignity. He holds his truncheon in his right hand. He looks almost as frightened of Hamlet as Hamlet is of him.

Folger Act/Sc/L: 1.4.43
Arden Act/Sc/L: 1.4.39
TLN: 624.00

Artist: Cruikshank, George
Artist (Original work): Cruikshank, George
Date: n.d.
Date (Original work):
Medium: Lithograph (signed)
Size: 14.7.x 18 cms; 5 3/4 x 7 in (16.2 x 18.8 cms - full plate)
Actor:
Production:

Location: FSL. Art File S528h1 no. 104.