Image 9 of 33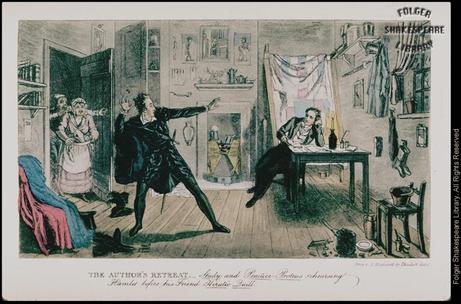 (Click on image to get enlarged view.)

Description: Illustrates what was always considered a very important moment in HAMLET--Hamlet's 'start' when he first sees the Ghost. This version depicts a domestic scene with a man in contemporary dress at right sitting at a table with a book. At the left is a door through which a man and woman observe. Just to left of centre stands the figure of Hamlet in Elizabethan dress (doublet, breeches, short cloak, sword), his left hand raised horizontally before him, his right hand held up to the level of his head. His hat has fallen off behind him. His weight is placed upon his right foot, and he leans back in that direction as though startled and 'starting back'. His head is turned to face along the length of his left arm, and there is a look of fright on his face. His hair appears to be standing partly on end. Pierce Egan's engraving shows Proteus, the hero, in his friend Horatio Quill's garret. Proteus is rehearsing the scene, but is interrupted just at the moment he 'flattered himself that he had knocked off his hat with almost as much grace and elegance as GARRICK' and had 'placed himself in an attitude little inferior to JOHN KEMBLE.'

Folger Act/Sc/L: 1.4.43
Arden Act/Sc/L: 1.4.39
TLN: 624.00

Artist: Lane, Theodore
Artist (Original work): Lane, Theodore
Date: 1825
Date (Original work):
Medium: Engraving (?) (signed 'Drawn & Engraved by Theodore Lane')
Size: 10.7 x 18 cms; 4 1/4 x 7 in
Actor:
Production:

Location: FSL. PN2095 E4 1892. In Pierce Egan's THE LIFE OF AN ACTOR (London: Pickering & Chatto, 1892), opp. p. 58.