Image 11 of 33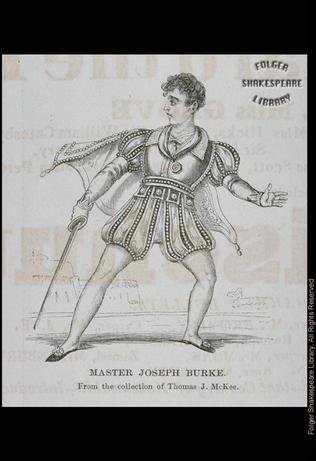 (Click on image to get enlarged view.)

Description: Joseph Burke (1818-?) as Hamlet. Whole length. Standing, legs apart, left profile, sword in right hand, point down, left arm extended to right. The classic pose of Hamlet's 'start'. He wears trunk hose and short cape. There is a chivalric order (or miniature) hanging around his neck.

Folger Act/Sc/L: 1.4.43
Arden Act/Sc/L: 1.4.39
TLN: 624.00

Artist:
Artist (Original work):
Date:
Date (Original work):
Medium: Engraving
Size: 6.3 x 5.7 cms; 2 5/8 x 2 1/4 in
Actor: Burke, Joseph
Production: Surrey Theatre, August 1828 (directed Mr. Elliston).

Location: FSL. Art Vol. b48 (unnumbered). FSL. Art Vol. b52, at rear (unnumbered). Cf. HTC (Burke, Joseph, no. 15). Published by J.L. Marks (London). HTC has woodcut copy from collection of Thomas J. McKee (Burke, Joseph, no. 16).