Image 12 of 33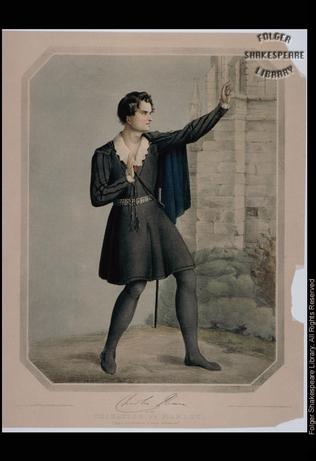 (Click on image to get enlarged view.)

Description: Portrait of Charles John Kean (1811-68) as Hamlet. Whole length, to right, standing, left arm upraised at shoulder height, palm forward. Left hand raised at chest height with palm forward. He wears knee-length black tunic, short black cape lined in blue, wide lace collar, and sword. He has short curly hair. His face expresses fear or uncertainty. Behind at right is tall stone building. At foot is caption: 'Charles Kean in the Character of Hamlet. 'Angels and ministers of grace defend us'.'

Folger Act/Sc/L: 1.4.43
Arden Act/Sc/L: 1.4.39
TLN: 624.00

Artist: Reichert, C.F. (printed by W. Kohler)
Artist (Original work): Reichert, C.F.
Date: 1838 (15 Feb)
Date (Original work): 1838 ?
Medium: Lithograph (colour)
Size: 33 x 25.4 cms; 13 1/4 x 10 in
Actor: Kean, Charles John
Production: Inspired by debut of Charles Kean at Dury Lane on 8 Jan 1838.

Location: FSL. Art File K24 no. 16 copy 1; HTC (Kean, Charles John, no. 23). Printed by W. Kohler and published by Thomas McLean, 15 February 1838 (London, 1838). LTM has two copies (Beard f135-3, 12).