Image 10 of 33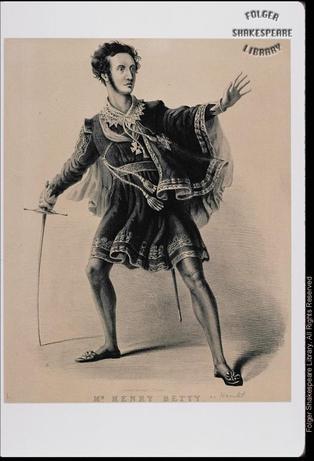 (Click on image to get enlarged view.)

Description: Henry Betty (1819-1897), son of William Henry West Betty, as Hamlet. Whole length. Hamlet stands, legs apart, looking to the right, sword in right hand, point on the ground behind him at left, left hand extended before him at right. He wears thigh-length tunic, elaborate lace collar, short cloak. There is a cross on a ribbon around his neck.

Folger Act/Sc/L: 1.4.43
Arden Act/Sc/L: 1.4.39
TLN: 624.00

Artist: Onwhyn, F.
Artist (Original work): Onwhyn, F.
Date:
Date (Original work):
Medium: Lithograph (signed 'drawn & lithographed by F. Onwhyn')
Size: 29.5 x 22.5 cms; 11 1/2 x 9 in (without caption)
Actor: Betty, Henry
Production:

Location: FSL. Art File B565.4 no. 2. Printed by Day and Haghe, lithographers to the Queen, and published by J. Onwhyn.