Image 19 of 33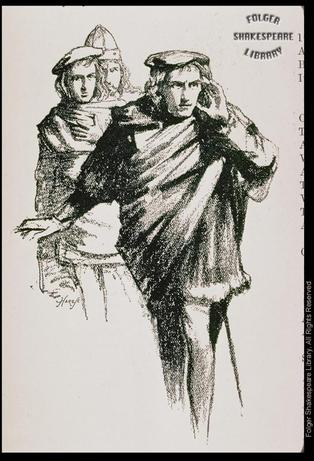 (Click on image to get enlarged view.)

Description: Horatio at left rear, his left hand upon his breast as if in consternation. Directly behind him is figure of Marcellus. Hamlet, in right foreground, his back to the other characters, has his right arm extended to left, and his left arm raised, with his left hand placed to the left side of his face. This would appear to be the moment at which Hamlet first sees the Ghost or the moment at which he starts to follow the Ghost.

Folger Act/Sc/L: 1.4.43
Arden Act/Sc/L: 1.4.39
TLN: 624.00

Artist: Hare
Artist (Original work): Copping, Harold
Date: 1897 (?)
Date (Original work):
Medium: Engraving (wood) (signed 'Hare Sc')
Size: 14 x 9 cms; 5 1/2 x 3 1/2 in
Actor:
Production:

Location: FSL. PR2807 A361 Sh. Coll.; BL 11764.m.9 HAMLET, PRINCE OF DENMARK ... ILLUSTRATED BY HAROLD COPPING. London: Raphael Tuck, [1897], p. 18.