Image 26 of 33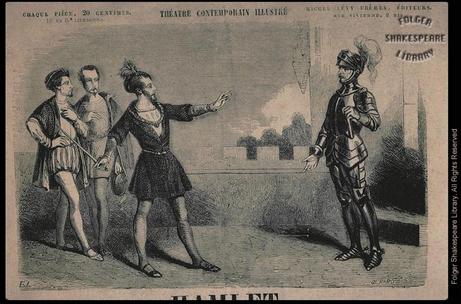 (Click on image to get enlarged view.)

Description: Upon the platform to left of centre stands Hamlet, legs apart, forward, facing right, weight on rear leg. His right arm is extended to left behind him and holds his unsheathed sword. His left arm is extended horizontally in front of him to right towards the Ghost. He wears thigh-length tunic, and plumed bonnet. He is bearded. Behind him to left stand Horatio and Marcellus. Each has a hand to his breast. Both survey the encounter before them. The Ghost at right is in full plate armour, with plumed helmet and spurs. He holds a truncheon in his left hand and rests it upon his left hip. His right hand is slightly extended towards Hamlet.

Folger Act/Sc/L: 1.4.43
Arden Act/Sc/L: 1.4.39
TLN: 624.00

Artist: Gerard
Artist (Original work): L., E.
Date: 1847
Date (Original work):
Medium: Engraving (wood) (signed and undated)
Size: 10.5 x 16.5 cms; 4 1/8 x 6 3/8 in
Actor:
Production:

Location: FSL. PR2796 F6 H1 A16 Sh. Coll. HAMLET PRINCE DE DANEMARK, trans. Alexandre Dumas & Paul Meurice, represente pour la premiere fois, a Paris, sur le Theatre-Historique, le 15 decembre 1847. Le Theatre Contemporain Illustre, 4th Series. Title page.