Image 25 of 33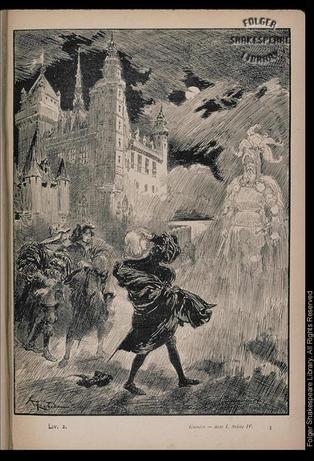 (Click on image to get enlarged view.)

Description: At centre stands Hamlet, facing right and upwards, left hand to forehead, his plumed bonnet on ground behind him. As though in mid air at right is figure of Ghost in armour, plumed helmet and visor up. He holds truncheon in right hand. At left stand Horatio and Marcellus. At rear left is palace.

Folger Act/Sc/L: 1.4.43
Arden Act/Sc/L: 1.4.39
TLN: 624.00

Artist: Robida, A.
Artist (Original work): Robida, A.
Date: 1900
Date (Original work): 1900
Medium: Engraving (wood) (signed 'A. Robida')
Size: 25 x 18 cms; 9 3/4 x 7 1/8 in
Actor:
Production:

Location: FSL. PR2796 F6 1900 Sh. Coll. CHEFS-D'OEUVRE DE SHAKESPEARE, trans. Jules Lermina, illus. A. Robida (Paris: Edouard Cornely, 1900), p. 9.