Image 28 of 33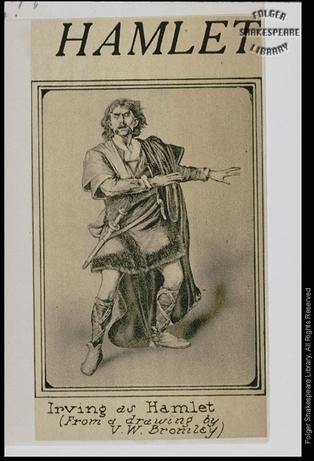 (Click on image to get enlarged view.)

Description: Portrait of Henry Irving as Hamlet. Full length, standing, forward, legs apart, right leg slightly advanced, weight on left leg. Both arms extended to right, eyes wild and staring slightly to left as though recoiling from something (the Ghost?). He wears fur-trimmed tunic and long cloak over his left shoulder.

Folger Act/Sc/L: 1.4.43
Arden Act/Sc/L: 1.4.39
TLN: 624.00

Artist: Bromley, Valentin Walter (reproduction of)
Artist (Original work): Bromley, Valentin Walter
Date:
Date (Original work):
Medium: Reproduction of drawing
Size: 8.5 x 6 cms; 3 3/8 x 2 3/8 in (12 x 6.5 cms with title and caption)
Actor: Irving, Henry
Production:

Location: FSL. Hamlet Scrapbook, Vol. 1, 1749.