Image 14 of 33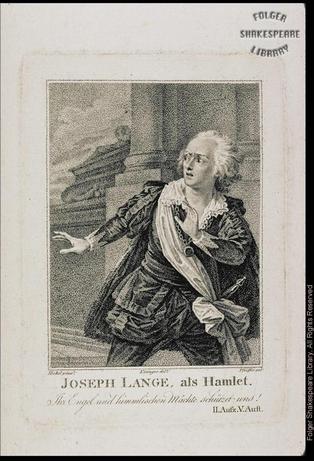 (Click on image to get enlarged view.)

Description: Portrait of Josef Lange (1751-1827) as Hamlet. Three-quarter length, to left, facing left. He stands in the classic 'start' pose, with both hands raised in front of him, his weight back on his rear foot and his eyes staring as if in fright. The scene appears to be outdoors and hence would represent the moment when Hamlet first sees the Ghost. Below is inscription: 'Ihr Engel und himmlischer Machte schutzet uns!'

Folger Act/Sc/L: 1.4.43
Arden Act/Sc/L: 1.4.39
TLN: 624.00

Artist: Pfeiffer (sct.) and Kininger (delt.)
Artist (Original work): Hickel (pinxt.)
Date: 1795
Date (Original work):
Medium: Engraving (stipple)
Size: 9 x 7 cms; 3 5/8 x 2 3/4 in (12 x 8.6 cms - full plate)
Actor: Lange, Josef
Production:

Location: FSL. PR2755 K7 A2 copy 4 vol. 9 Sh. Coll. Extra-illustrated THE PICTORIAL EDITION OF THE WORK OF SHAKSPERE, ed. Charles Knight (London: Knight, n.d.), opp. p. 138.