Image 30 of 32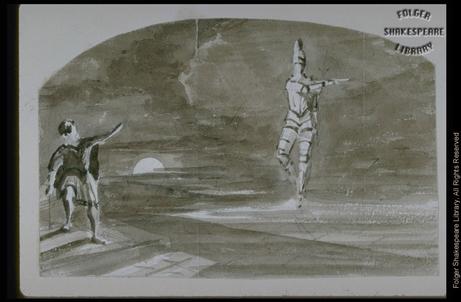 (Click on image to get enlarged view.)

Description: Hamlet and the Ghost. Hamlet to left standing on some steps, one foot lower than the other. In his right hand he holds his sword, point to the ground. His left arm is extended up to the right in the direction of the Ghost at right. This latter, in armour and with a plumed helmet, has a truncheon in his right hand. He faces forward but his right arm is crossed across his body so that the truncheon points to the right where presumably he invites Hamlet to follow him.

Folger Act/Sc/L: 1.4.96
Arden Act/Sc/L: 1.4.86
TLN: 673.00

Artist: Anonymous
Artist (Original work): Anonymous
Date: n.d.
Date (Original work):
Medium: Sepia
Size: 9.8 x 13.6 cms; 3 7/16 x 5 5/16 in (arched) (12.5 x 22.5 sh)
Actor:
Production:

Location: FSL. Art Box S528h1 no. 3.