Image 3 of 32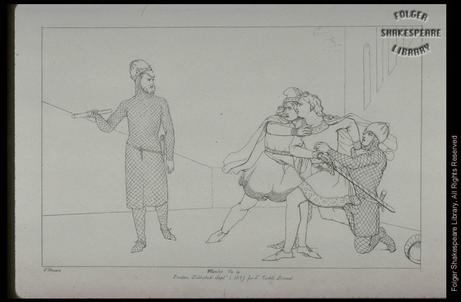 (Click on image to get enlarged view.)

Description: At right stands Hamlet. He is held back from moving forward by Marcellus (in chain mail and one knee upon the ground) and Horatio (dressed in a thigh-length tunic). To the left stands the Ghost. He wears chain mail and a helmet that has the visor up. In his right hand he holds a truncheon with which he gestures off to the left as though inviting Hamlet to follow him.

Folger Act/Sc/L: 1.4.82
Arden Act/Sc/L: 1.4.74
TLN: 663.00

Artist: Howard, Frank
Artist (Original work): Howard, Frank
Date: 1827 (1 Sept.)
Date (Original work):
Medium: Engraving (signed and dated)
Size: 11 x 17 cms; 4 1/4 x 6 3/4 in
Actor:
Production:

Location: FSL. Art File S528h1 no. 151, Pt. 4; FSL. Art Vol. b54, Vol. XVII, opp. p. 32.