Image 4 of 32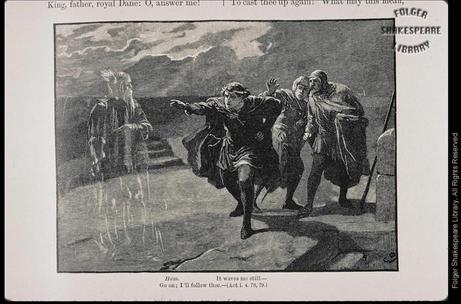 (Click on image to get enlarged view.)

Description: Upon the platform, backlit by moonlight. The near transparent form of the Ghost at left in winged helmet, visor up. He is pointing to the left with his left arm across his body, and his head is turned to the right over his left shoulder, as though showing Hamlet where he wants him to follow. Hamlet at centre, as though advancing forward, his left hand upon the hilt of his sword, his right arm fully extended towards the Ghost. He wears tunic and cloak. Behind him to right are Horatio and Marcellus. Horatio's hand is raised, palm to viewer, as though he is very fearful. Quotation at foot begins: 'It waves me still' etc.

Folger Act/Sc/L: 1.4.82
Arden Act/Sc/L: 1.4.74
TLN: 663.00

Artist: Hentschel, C. (?)
Artist (Original work): Browne, Gordon
Date: 1890
Date (Original work):
Medium: Engraving (wood) (signed only 'G.B.')
Size: 8.8 x 11.8 cms; 3 7/16 x 4 5/8 in
Actor:
Production:

Location: FSL. Art Vol. a40, Vol. 35. From extra-illus. THE WORKS OF WILLIAM SHAKESPEARE, ed. Henry Irving & Frank A. Marshall (New York: n.p., 1893), p. 37.