Image 8 of 42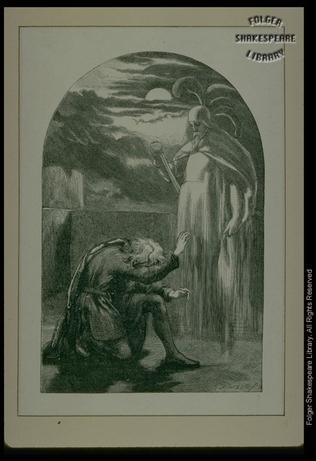 (Click on image to get enlarged view.)

Description: The battlements, back lit by a partially-obscured full moon at centre. To the right, a phantom-like Ghost, almost transparent. He wears long flowing robes (see FSL. Art File S528h1 no. 102 pt. 1), holds a truncheon in his right hand and stares down at Hamlet. This latter crouches in centre foreground before him, his head lowered as if in terror. His right arm is raised as if to ward off the Ghost.

Folger Act/Sc/L: 1.5.2
Arden Act/Sc/L: 1.5.1
TLN: 682.00

Artist: Dalziel
Artist (Original work): Gilbert, John
Date: 1860
Date (Original work):
Medium: Engraving (wood) (signed)
Size: 14.6 x 9.5 cms; 5 3/4 x 3 3/4 in (arched) (16.7 x 11.3 cms)
Actor:
Production:

Location: FSL. Art File S528h1 no. 102, pt. 2; FSL. PR2796 G3 A124 v.4 Sh. Coll. SHAKESPEARE'S SAMMTLICHE WERKE, trans. A.W. Schlegel et al (Stuttgart: Hallberger, n.d.), p. 423; SC (P.C.56.07/42th cent.); FSL. PR2798 S8 A1 v.3 Sh. Coll. (Lund: Gleerup, 1880), p.70.