Image 7 of 42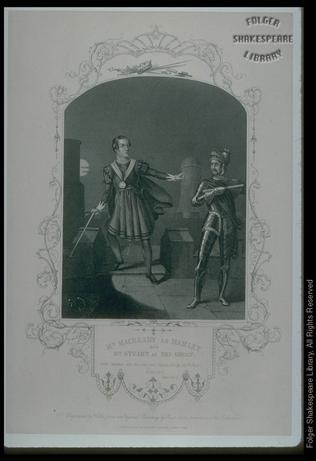 (Click on image to get enlarged view.)

Description: Quotation at foot: 'Whither wilt thou lead me! Speak, I'll go no further.' William Charles Macready as Hamlet and Mr. Stuart (b. 1804) as Ghost. Upon the platform, with the battlements and a tower of the castle in the background. Hamlet stands at left, feet wide apart, his body facing the viewer but his head turned to the right towards the Ghost at right. He wears a knee-length tunic, puffed upper sleeves and a short cape. He is hatless. Around his neck is a broad ribbon from which is suspended a miniature or a chivalric insignia. He holds his drawn sword in his right hand. The sword is pointed downwards to the left. His right arm is extended horizontally to the right and his index finger points towards the Ghost. His eyes are staring as if fearful. The Ghosts at right faces left towards Hamlet, but his body is forward to the viewer. He wears armour and a helmet with the visor up. In his right hand he holds a truncheon and points with it across his body to the right as though showing Hamlet where he wants him to follow. His left arm appears to be extended to the right but is cut off by the frame of the picture. The scene is backlit by a full moon. In the left foreground is a large chain, a reminder that this is a platform (for heavy guns).

Folger Act/Sc/L: 1.5.2
Arden Act/Sc/L: 1.5.1
TLN: 682.00

Artist: Hollis
Artist (Original work): Reid
Date: 1849
Date (Original work):
Medium: Engraving
Size: 15.4 x 11.6; 6 1/16 x 4 9/16 in (arched) (26.7 x 18.1 cms full sh)
Actor: Macready, William Charles
Production: Haymarket, 1849.)

Location: FSL. Art File M174.4 no. 3; LTM (Beard f42-42), published by John Tallis & Co. (London and New York). Cf. Art Vol. b48 (unnumbered), which has smaller version from Laurence Hutton's A CENTURY OF HAMLET, p. 871; Art Vol. c7 no. 72; FSL. PR2755 H3 B3d Sh.C.