Image 19 of 42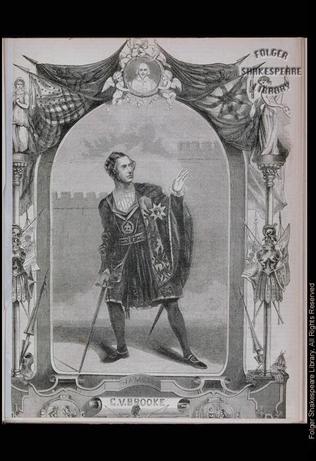 (Click on image to get enlarged view.)

Description: Portrait of Gustavus Brooke (1818-66) as Hamlet. Full length, standing, forward, facing right. He stands in classic 'start' position, with weight on right leg, leaning back to left. He holds sword in right hand with point to ground and his left hand is raised, palm forward. This may be the moment when Hamlet first sees the Ghost or it may be the moment at the beginning of Act 1 scene 5 - 'Whither wilt thou lead me?' The picture has an elaborate border around it, decorated with vignettes, a portrait of Shakespeare, armour, lances, banners, etc. Part of the border, particularly at the bottom, has been trimmed.

Folger Act/Sc/L: 1.5.2
Arden Act/Sc/L: 1.5.1
TLN: 682.00

Artist: Anonymous
Artist (Original work): Anonymous
Date:
Date (Original work):
Medium: Engraving (woodcut)
Size: 22 x 14 cms; 8 5/8 x 5 1/2 in (arched)
Actor: Brooke, Gustavus Vaughan
Production:

Location: FSL. Art Vol. b48 (unnumbered). From copy of Laurence Hutton's A CENTURY OF HAMLET (New York, 1893).