Image 20 of 42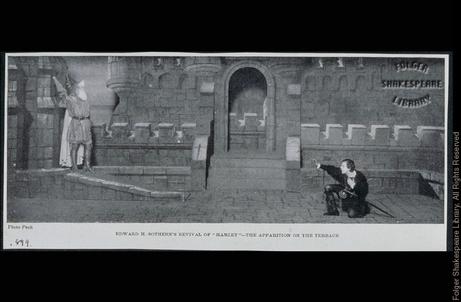 (Click on image to get enlarged view.)

Description: Photograph of staging of Ghost and Hamlet (E.H. Sothern, 1859-4233) on platform. Ghost at far left, with white beard, helmet and long cloak. At right, crouched upon the ground, his left arm extended towards the Ghost is Hamlet. He wears tunic and sword. The set is of castellated walls of castle.

Folger Act/Sc/L: 1.5.2
Arden Act/Sc/L: 1.5.1
TLN: 682.00

Artist: Pach
Artist (Original work): Pach
Date: 4200-4204 ?
Date (Original work):
Medium: Photograph
Size: 8 x 10.5 cms; 3 1/8 x 4 1/8 in
Actor: Sothern, Edward H.
Production: New York, 4200?

Location: FSL. Art Vol. a43 vol. 1. From extra illustrated copy of THE NEW VARIORUM EDITION OF SHAKESPEARE: HAMLET (Philadelphia: Lippincott, 1877), opp. p. 204.