Image 18 of 42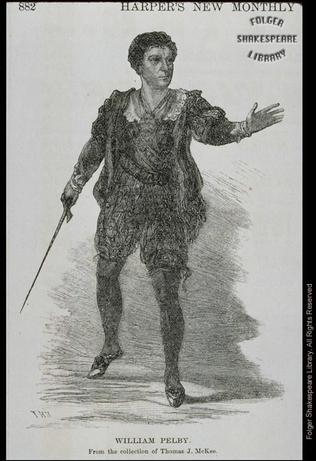 (Click on image to get enlarged view.)

Description: Portrait of William Pelby (1793-1850) as Hamlet. Full length, forward, facing slightly to right. Legs apart, leaning on forward left foot. His sword is in his right hand, point to ground behind him. His left hand is raised in front of him. Probably the moment when Hamlet enters in Act 1, scene 5.

Folger Act/Sc/L: 1.5.2
Arden Act/Sc/L: 1.5.1
TLN: 682.00

Artist: H., T.H.
Artist (Original work): Anonymous
Date:
Date (Original work):
Medium: Engraving
Size: 10.5 x 7.5 cms; 4 1/4 x 2 7/8 in
Actor: Pelby, William
Production:

Location: FSL. Art Vol. b48 (unnumbered). From copy of Laurence Hutton's A CENTURY OF HAMLET (New York, 1893).