Image 21 of 42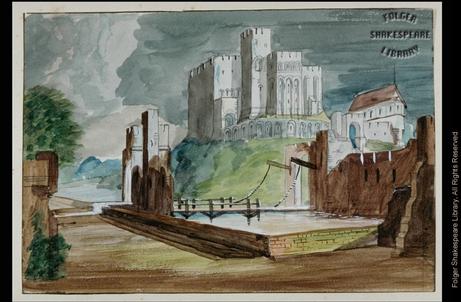 (Click on image to get enlarged view.)

Description: Set drawing for Charles Kean's production at the Princess's Theatre in 1850. This was first archaeological mounting both in scenery and costume (see HAMLET THROUGH THE AGES, p. 48). A platform, separated from the castle by a drawbridge. The castle itself dominates the background. It stands high up upon a high rock.

Folger Act/Sc/L: 1.5.2
Arden Act/Sc/L: 1.5.1
TLN: 682.00

Artist: Anonymous
Artist (Original work): Grieve, Thomas
Date: 1850
Date (Original work): 1850
Medium: Watercolour
Size: 14 x 20.2 cms; 5 1/2 x 8 in
Actor:
Production: Princess's Theatre (Charles Kean), 1850.

Location: FSL. Art Vol. d15 no. 9. Charles Kean. The Original Water Color Drawings from Which the Scenery Used by Charles Kean in his Shakespearian and Other Productions Was Executed. Vol. One.