Image 7 of 19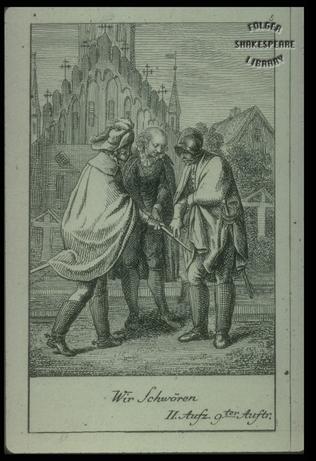 (Click on image to get enlarged view.)

Description: Hamlet at centre, Horatio to left, and Marcellus at right stand in graveyard before church (as in pts. 3 and 4). Hamlet, wearing breeches and three-quarter length cloak, holds his sword out in front of him and his two companions each put a hand upon it, Horatio's to the 'cross' and Marcellus's on the blade. Engraving is accompanied by text 'Wir schworen.'

Folger Act/Sc/L: 1.5.179
Arden Act/Sc/L: 1.5.166
TLN: 855.00

Artist:
Artist (Original work): Chodowiecki, Daniel Nicolaus
Date: 1779
Date (Original work):
Medium: Engraving
Size: 7 x 4.9 cms; 2 3/4 x 1 15/16 in (8.2 x 4.9 cms with caption)
Actor: Brockmann, Johann
Production: Berlin, 1777-1778

Location: FSL. Art File S528h1 no. 154a, pt. 5 (one of twelve on sheet); FSL. PR2796 G3 H1 A12 Sh. Coll. HAMLET. PRINZ VON DANEMARK (Berlin: Eigenbrodler, n.d.). Modern limited edition that used original copper plates, opp. p. 48.