Image 6 of 19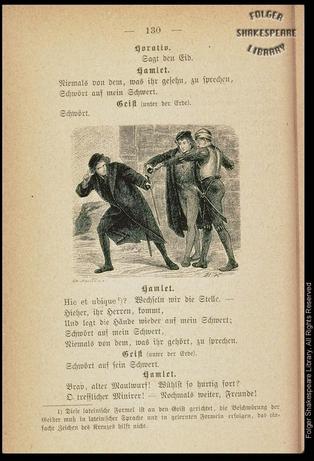 (Click on image to get enlarged view.)

Description: Hamlet at left, legs wide apart and leaning to left, holds blade of his sword in left hand and extends it to right. At right, Marcellus and Horatio each extend an arm and place their hand upon the hilt (now representing a cross) of Hamlet's sword.

Folger Act/Sc/L: 1.5.176
Arden Act/Sc/L: 1.5.162
TLN: 852.00

Artist: Schulze, C.H.
Artist (Original work): Knackfuss, Hermann
Date: 1874 ?
Date (Original work): 1874 ?
Medium: Engraving (wood) (signed but undated)
Size: 5.5 x 6 cms; 2 1/8 x 2 3/8 in
Actor:
Production:

Location: FSL. PR2796 G3 1874 v.4 Sh. Coll. SHAKESPEARE'S DRAMATISCHE WERKE, transl. A.W. Schleget & L. Tieck (Berlin: Grote'sche Verlagsbuchhandlung, 1874), Vol. 4, p. 130.