Image 8 of 19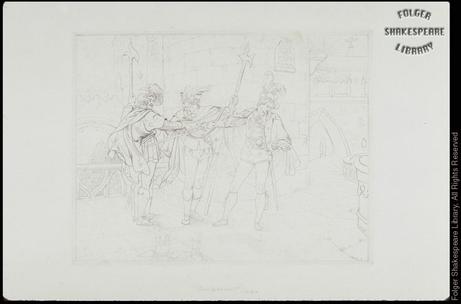 (Click on image to get enlarged view.)

Description: 'Swear by my sword.' The battlements. Hamlet at right, his head turned away from the other figures, holds out his sword. Marcellus and Horatio to the left hold out their hands and place them on the point of Hamlet's sword where the hilt meets the blade (the cross). In the foreground the transparent figure of the Ghost seems to be disappearing into the ground.

Folger Act/Sc/L: 1.5.180
Arden Act/Sc/L: 1.5.167
TLN: 857.00

Artist: Anderson, William M.
Artist (Original work): Retzsch, Frederick August Moritz
Date: 1848
Date (Original work): 1827
Medium: Pencil drawing (signed 'W.M.A.' but undated)
Size: 17 x 22 cms; 6 3/4 x 8 5/8 in
Actor:
Production:

Location: FSL. Art Box A552 no. 3.