Image 9 of 19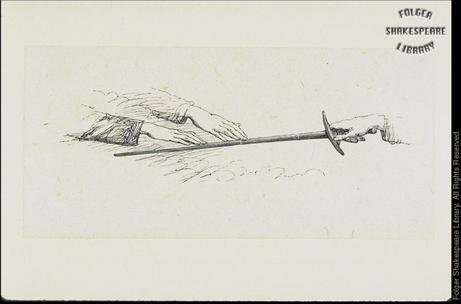 (Click on image to get enlarged view.)

Description: At right, a hand (Hamlet's) holds sword pointing to left. Two hands at left (Horatio's and Marcellus's) touch the blade of the sword.

Folger Act/Sc/L: 1.5.180
Arden Act/Sc/L: 1.5.167
TLN: 857.00

Artist: Dalziel Bros.
Artist (Original work): Gilbert, John
Date:
Date (Original work):
Medium: Engraving (wood) (unsigned)
Size: 3 x 10.5 cms; 1 1/8 x 4 in
Actor:
Production:

Location: FSL. Art Vol. a39, Vol. 8. From THE WORKS OF WILLIAM SHAKESPEARE, ed. Howard Staunton (London & New York: Routledge, 1881), p. 195.